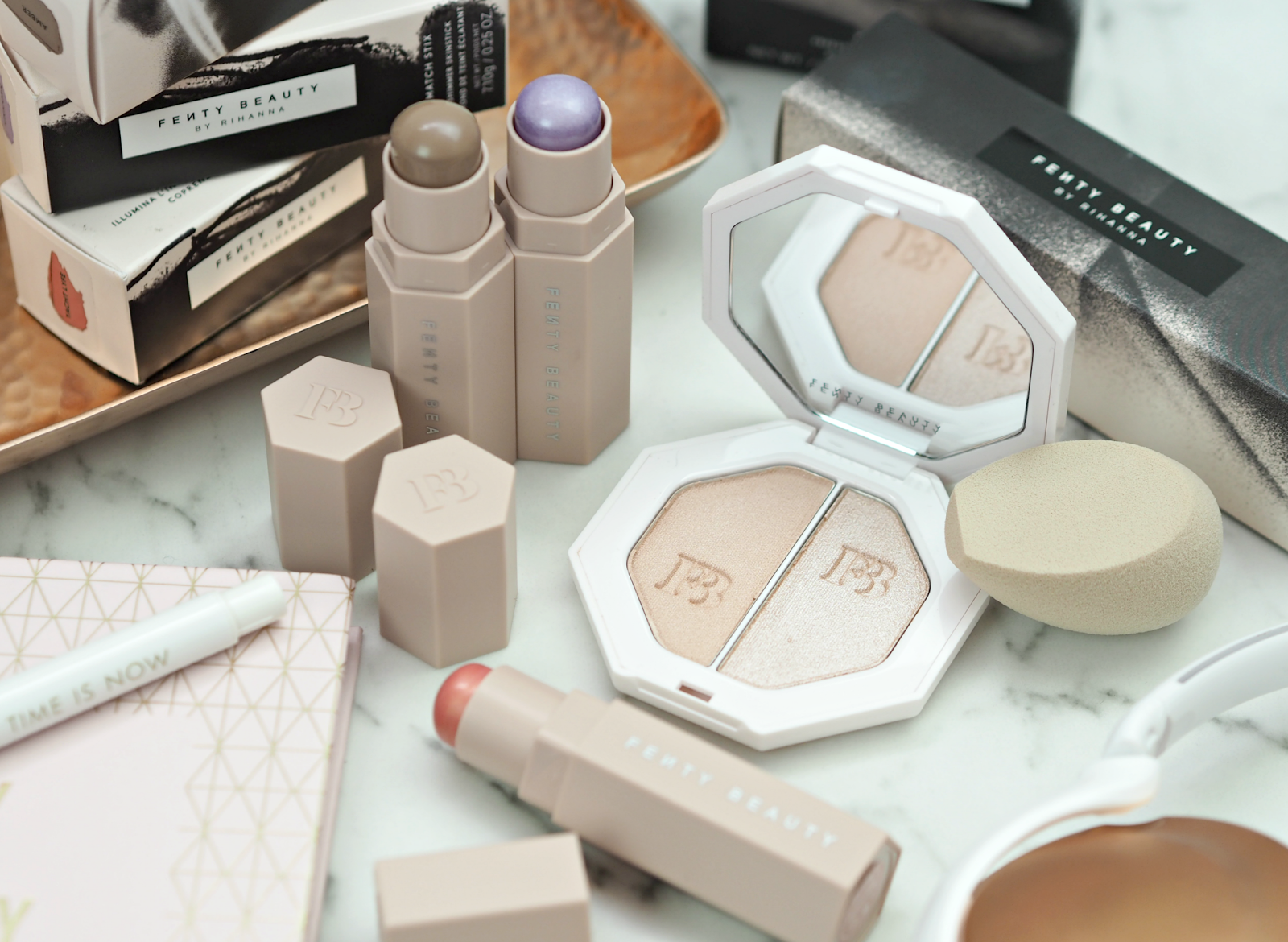 Hi, there!
Rihanna besides her phenomenal voice has also a pretty amazing cosmetic line. There are the foundation, highlighter, concealer and much more in various shades. Read below about what I managed to test and what I'm still waiting to lay my hands on.
New beauty collection by Rihanna
Fenty Beauty collection holds the whole bunch of cosmetics. We have here foundations, make-up base, highlighter, concealer, shine control products, brushes and sponges. All cosmetics are available in shades that match every skin type. Some cosmetics contain shimmering particles which give you this extra party look. The packagings for all cosmetics have geometrical shapes in pastel colours. Are you tempted yet?
Fenty Beauty Collection for Face
In this part is the make-up base to make skin complexion even, a foundation in 40 shades, contouring stick with a shimmering and matte finish, nude highlighter, brushes, mattifying powder and blotting papers and concealer, highlighter and a brush powder. Which of those do I like most? Obviously the cosmetics in form of brush which I use so often at work. I can just toss those in the bag and touch up my make-up on the go, whenever I want and wherever I want. Rihanna's cosmetics perfectly mattify, absorb excess sebum and are super easy to use. If you'd like to test them, you must remember that at least once a week you have to clean all brushes with a make-up remover.
The remaining cosmetics in Rihanna's collection
Fenty Beauty includes also lip gloss and highlighter that is expected to replace eye shadows. The second one is my favourite. I usually use the double: Lighting Dust/Fire Crystal and Mean Money/Hu$tla Baby. These have lots of shimmering pigments so my face looks younger and eyes are more expressive. Highlighters and eye shadows in one I use for work (in small amounts) and for the party with my friends. These can camouflage all the fatigue, dull skin and minor imperfections.
Have you tested the newest cosmetics by Rihanna yet?