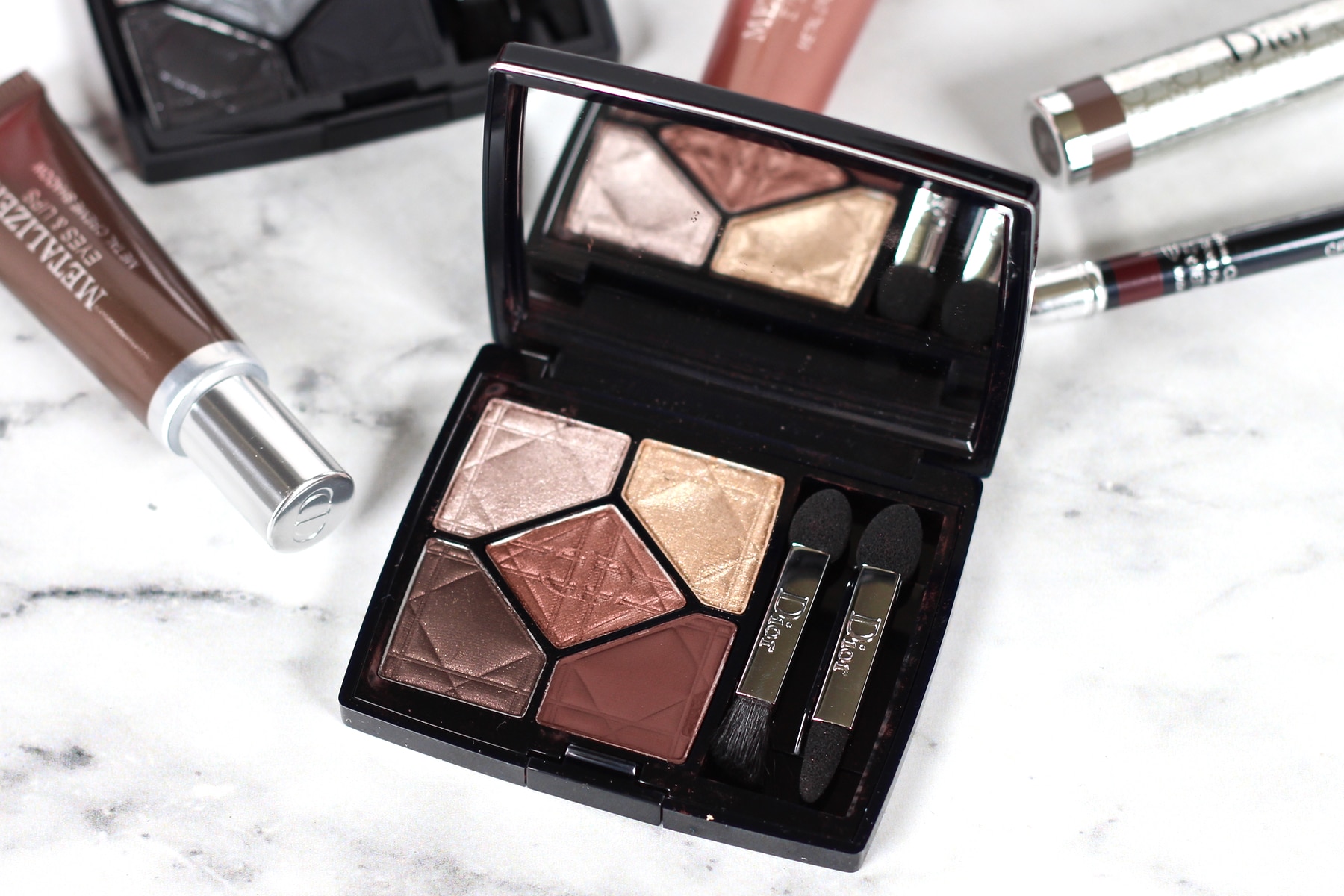 Hello Girls!
Well-known to all the professional make-up lovers Dior brand has launched a new series of cosmetics named Metallics. It features a few products to beautify face and fingernails. How did they serve me and what are my feelings about the series? Free invited to read my entry.
Eye make-up with Dior
Especially for us Dior has prepared creamy eyeshadows Diorshow Color Metalizer, a palette of five shadows and two applicators, mascara Diorshow Pump'N'Volume and eyebrow gel Diorshow Bold Brow Mascara.
Creamy eyeshadows belonging to Metallics series deliver shimmering finish and are available in four variations (Green Magnet, Platine Fusion, Bronze Tension, Plum Reflexion). According to the producer, the eyeshadows replace lipsticks and colour lip balms. To be honest, I don't know how we are supposed to apply this product to our lips… However, what I truly like in this product is its small size (8 ml) and the tube packaging. Easy application (and when it comes to Diorshow Color Metalizer it is easy, indeed) is what I find really important. The second eyeshadow palette that comprises the series is the popular and small packaging containing five shadows, two applicators and a mirror. The colours of the shadows were selected to maximally facilitate applying smoky eye. 5 Couleurs Dior provides velvet finish and are exceptionally durable.
It goes without saying that eye make-up is more than just perfectly done eyelids; you also have to pay special attention to eyelashes and eyebrows. These tasks are handled by Diorshow Pump'N'Volume mascara and Diorshow Bold Brow Mascara of gel consistency. The first product extends lashes and delivers the eye-enhancing effect. The brush was designed to make coating easier and to separate an eyelash from an eyelash precisely. The second cosmetic conditions and shapes eyebrows. We can buy this product in two shades of brown. I like both the mascara and the gel because they are durable, are in sync with the producer's promises and feature great applicators.
Lips make-up with Dior
In its new series Dior also offers lipsticks and lipliners. Rouge Dior lipstick has a creamy formula, sateen finish and delivers truly heavy cover. We can buy it is three colour ranges: red, pink and purple. Why do I like this lipstick? The answer is obvious, this cosmetic contains mango butter and hyaluronic acid, both of which are responsible for delivering water to lips. Additionally, this lipstick is super easy to apply, no matter if we use an applicator to do it or just our fingers. As mentioned, we have also Dior Contour at our disposal. Of course, it is available in shades similar to the lipstick's. This product delivers matte and long-lasting effect. I like the lipliner because, despite its soft lead, it has also a brush to smudge the lipstick. It's a truly cool combination.
Manicure and face contouring with Dior
New series of Dior, Metallics, features Dior Vernis nail polish as well as a highlighter and a blusher Diorblush Colour & Light. The nail polishes deliver sateen finish, dry very quickly (I tested this myself) and are durable. They are available in fair pink, violet and red shades. How to shape face due to Dior palette? Of course, we need to use the highlighter and the blusher. The cosmetic has a stick form, which greatly facilitates the task and provides natural and sateen effect.