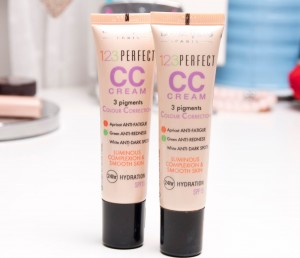 Colouring creams are the perfect summertime alternative for any heavy foundation. It is lightweight, hydrating and it allows skin to breathe freely. No pores clogged up, no dry patched on cheeks.
What to do, however, if we have a problematic skin that requires a good coverage? BB creams are proved not to handle this issue well. With time BB balms were transformed into Color Control creams that are supposed to hide everything that needs to stay invisible.
Therefore Bourjois '123 Perfect CC Cream' has been dedicated to women of all skin types, including problematic skin. The product comes in a 45ml tube that can be squeezed to get the very last drop out.
It has a liquid, non-greasy consistency and it dries quickly when applied. Due to its formula is applies well without leaving dry, uneven patches. The coverage is light to medium and only one coat is enough to hide dark under eye circles. For acne skin, two layers of product are required. 'The 123 Perfect CC Cream' has in its formula special correcting pigments that smooth away imperfections evening your skin tone. It glides over fine lines beautifully and it covers all small wrinkles.
It moisturizes and mattifies the skin for a few hours. It is an important that the '123 Perfect CC Cream' is topped up by the setting powder, as the T-zone gets oily after three hrs. It is still not bad for a CC creams. It makes face have a nice smooth finish and has 15SPF sun protection as well. The cream can be worn on its own or it can be a perfect base for your regular foundation. It is a great product for daytime activities such as running or shopping.