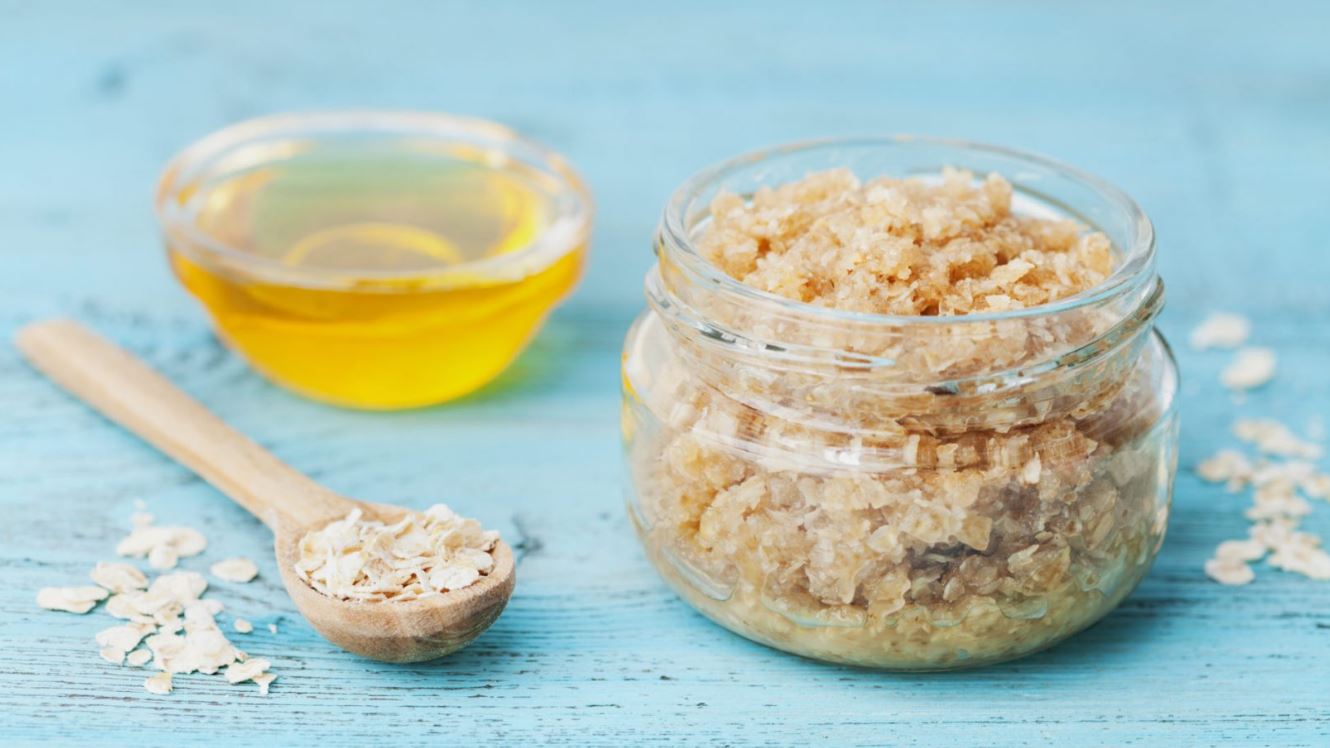 The facial scrub is a pleasant and useful care treatment that aims to exfoliate the epidermis. Regular removal of dead skin cells speeds up skin regeneration, enhances collagen production and stimulates blood circulation. What's more, it improves skin tone and unclogs pores, preventing the formation of blackheads at the same time. Although skin exfoliation is necessary to keep it in good condition, you cannot do it too often – depending on the type of skin, 1-2 times a week will suffice. A homemade scrub can be as effective as the cosmetic bought in a drugstore, is being much cheaper and eco-friendly at the same time. Here are my recipes for homemade scrubs for sensitive, acne-prone, oily and combination skin. I hope you will like them!
A homemade scrub for sensitive skin – my recipe
Sensitive skin usually has the tendency to dry out, be tight, get red and flake easily. If you notice these symptoms, avoid coarse-grained peels, because massaging the face with large particles will cause irritation. Instead, use enzyme peels about once a week. Apply them to the face gently with a brush and wash with filtered or mineralized water after the time specified on the packaging (usually after 10-20 minutes).
My recipe for a homemade scrub for sensitive skin
Components:
3 tablespoons of oatmeal,
1 tablespoon of honey,
1 tablespoon of cream,
half a teaspoon of finely ground, soaked almonds.
Grind all the ingredients in a blender, then apply gently onto the face and cleavage. After a few minutes, gently massage the peeling into the skin and rinse with mineralized water. In the end, gently towel-dry the skin and put on a regenerating mask, for example with green clay.
Homemade acne skin scrub – my recipe
I have acne skin and I know that the regular use of exfoliators is very important. This type of skin is characterized by a disturbed cycle of peeling of the epidermis, which is manifested by clogged pores and a breakout of blemishes. Although peeling makes it easier to remove the dead layers of the epidermis, if done incorrectly, it can make inflammation even worse.
I gave up coarse peels because rubbing the face made me distribute the bacteria and thereby infect healthy areas of the skin. I do not exfoliate more than 2 times a week, otherwise, it would dry out the skin, and thus – increase the production of sebum and cause blemishes. Sometimes, I go for an enzyme peel, other times I choose a peel-off mask with a gel consistency that allows getting rid of blackheads and acne. I spread a thin layer evenly all over my face. After several minutes, the substance dries and leaves a coating on the face that resembles a foil – then I gently remove it and along with it – I get rid of dead skin cells. The peel-off mask does not require washing your face – just wipe it with your favorite face toner (or spray with a mist) and apply the cream.
However, whenever I do a homemade scrub, I apply it to my face slowly, very gently, with circular movements and wash away quickly.
My homemade scrub for acne prone skin
Ingredients:
2 tablespoons of milk,
5 g food grade gelatin or xanthan gum,
2 drops of essential oil, for example from tea, cinnamon or sage tree.
Place gelatine in the bowl and add the essential oil. Heat the milk and add it to the gelatin. Mix to dissolve. Wait for the mass to cool down – at this time you can wash and gently towel-dry the face. When the paste thickens, apply a thin layer to the skin. After about twenty minutes, the mask will become dry – then, gently remove it from the face and wash the residue with water.
A homemade scrub for oily skin – my recipe
Oily skin produces excessive amounts of sebum. The proper care involves using scrubs about 1-2 times a week. Do not forget about the use of creams, because every skin needs hydration. If you are not concerned with breakouts, in the summer, when the sebaceous glands work more intensively, you can use coarse-grained peels, and in the winter you should replace them with gommage peels. The latter works almost like an enzyme peel, but it contains not only enzymes, but also finely ground particles that gently exfoliate the skin. The gommage peeling gets dry after a few minutes of application. Remove it, gently massaging the skin with circular movements. As the dried substance crumbles, wash the residue with warm water and finally wipe the face with a toner or plant hydrolyzate, preferably chamomile.
Regular use of gommage peel (once a week) cleanses the skin of imperfections and supplies proper amount of oxygen. As a result, it prevents the skin from graying.
My homemade scrub for oily skin
Ingredients:
2 tablespoons of ground coffee,
1 tablespoon of oil,
1 tablespoon of sugar,
half a teaspoon of ground cinnamon.
Blend all ingredients together and use the product to gently massage your face for at least 5 minutes. Wash with lukewarm water and wipe the face with a toner or vegetable oil.
A homemade scrub for combination skin – my recipe
Combination skin causes problems because it consists of both dry areas called the T zone (forehead, nose and chin) and oily areas of the face. For this reason, it requires double care. The good news is that if you have a combination complexion, you can use all kinds of peels. The peel-off mask and gentle scrub will work best. They exfoliate the skin through the particles contained in it. Apply the product to a wet face and massage it with gentle, circular movements for a few minutes. Then rinse the mask with water, wipe your face with a toner and apply a moisturizing cream. Use the peel-off mask or scrub once a week.
My homemade scrub for combination skin
Ingredients:
2 tablespoons of fresh cranberry,
2 tablespoons of oatmeal,
1 tablespoon of olive oil,
1 teaspoon of lemon juice,
1 teaspoon of honey.
Blend the washed cranberry and oatmeal in a blender; optionally you can add a little water. Add the remaining ingredients and mix thoroughly. Apply the product to your face and massage the skin gently for a few minutes, especially in the T zone. Rinse with lukewarm water, cleanse your face with a toner and apply a moisturizing cream.
Have you ever tried any of my recipes for skin scrubs? If so, let me know how they worked. Do you know any other recipes for homemade scrubs for different skin types? I am waiting for your suggestions in the comments! 🙂