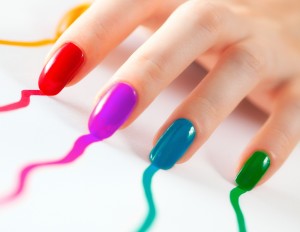 Beautiful hands and fingernails are a showcase of every well-groomed woman. Instead of spending long hours at a beautician's and investing money on various beauty treatments, try to do manicure at home. Totally on your own! If you follow the instructions enumerated below, none of your friends will state that the manicure you wear is done by a non-professional.
First of all, equip yourself with a few necessary cosmetics and gadgets which will make home manicure way easier. Actually, you will need a hand-cream, a cuticle softening gel, wooden cuticle pushes, an emery board, a nail polish remover, and obviously nail polishes of your favourite colours. For example, a nude-shaded, white for French manicure, a transparent top coat, a quick dry or a hardener. What is more, prepare also a bowl filled with water and soap, and a small towel where you can put the hands on when the fingernails will be drying out.
The first step is to get rid of the old nail polish form your fingernails. It is advised to do it precisely. Otherwise, you will not only harm your nails but also the new layer of a nail polish will look simply unaesthetically. After that, shape your fingernails by filing it from the outside edge heading to the centre. If you consider your nails being too long, clip them. Next, polish nail plates. Then, put the fingers into the bowl filled with the mixture of water and soap, keep them dipped a while. Pull the out and when they finally become air-dried you can proceed with applying the product designed for softening cuticle. Again, wait a while. Next, push the cuticles delicately up and cut them out using nail scissors. The cuticles that remind on nail plates have to be removed due to a nail polisher. One more time, dip the fingers into the water-and-soap mixture and let them become air-dry. Finally, degrease the nails using a nail polish remover or a product designed especially for this purpose.
Now, it is time for coating nails with the nail polishes. Firstly, start with applying a base coat. It will provide better grip and prolong the durability of another layers. If you would like to do a regular manicure, apply only one colour and the top coat. The procedure looks a little bit different when it comes to French manicure. In this case, you have to attach small stripes of stickers to the fingernails. This technique facilitates applying straight and neat lines – the ones that are characteristic for French manicure. Coat the tips of your fingers with a white nail polish designed especially for doing French manicure. Let them dry and take the stripes off the fingernails very carefully. Now, coat the entire nail plate with either the transparent or the nude nail polish. When the layer dries out, you can put the last layer – either the hardener or the top coat, which does not only accelerate the drying-out process of the nail polish but also protects the layers from chipping. The very last step of home manicure is moisturization of nails, cuticles and hands.