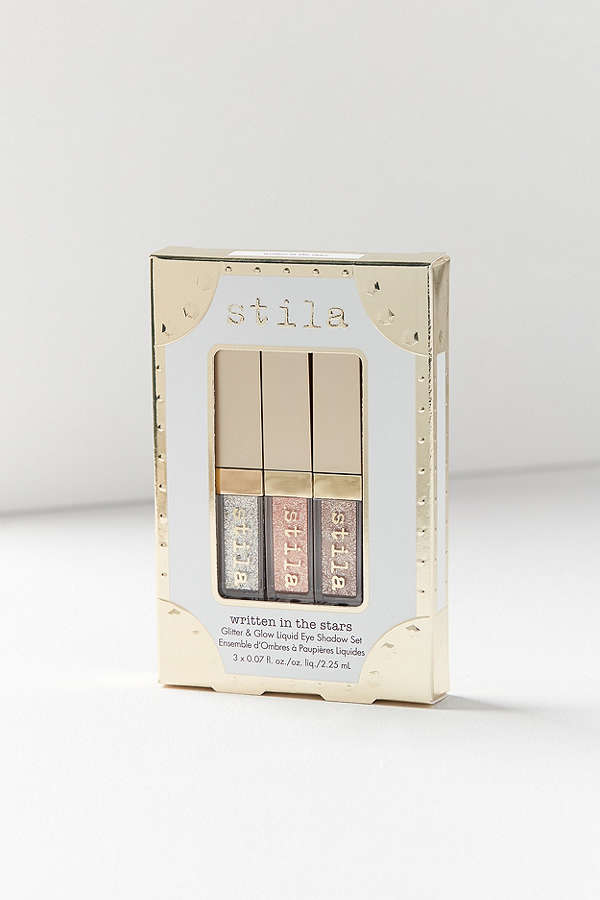 Hello!
Carnival and The New Year are coming faster than we want them to. Whether we want it or not, it's high time we think about appropriate make-up, which should shimmer and be smart. Therefore, when I saw this gel-and-glitter Written In The Stars palette by Stilla, I knew that they would be perfect for any party I'm going to attend this winter season. Of course, I've already tested them and you will learn my opinion about the palette in this very entry.
Written In The Stars eyeshadow palette
A white-and-gold case decorated with images of stars houses three shimmering eyeshadows. They have liquid formula and contain glitter. They are closed is phials resembling the ones used for lip glosses; they have to be applied with the use of applicator similar in form to the one attached to the lip cosmetic. The case stores: a silver shadow (Diamond Dust), a champagne-like one (Kitten Karma) and a shadow that combines silver and zinc colours (Smoky Storm). Each bottle contains 2,25 ml of the product.
How did I apply eyeshadows by Stilla?
Because the shadows have liquid formula, I had to make sure that they stay on eyelids long. Therefore, before each application I cleansed and degreased my eye skin area, and followed with eyeshadow primer. Then, I applied thin layers of Written In The Stars eyeshadows to the eyelids. I have to tell you that my eyes looked so beautiful that I didn't have to use any other products apart from an eyeliner and a mascara. Ok, sometimes when I needed an additional effect of highlighting, I added another layer of Stilla shadows, but that was all.
Written In The Stars eyeshadows by Stilla – My opinion
Written In The Stars delivers truly magnificent effects. Eyes seem to be bigger and the look more lively and prettier. The cosmetics are durable, although at the end of the day I noticed them gathered in the crease. Probably this is the fault of my greasy skin. When it comes to application, it was really easy and I'm sure nobody would experience any problems with it. What's also worth mentioning, it didn't happen even once that I got irritated by the cosmetic. In the light of this, I can recommend Written In The Stars to everyone whose eyes and the skin area surrounding them are sensitive.
Girls, have you already known how you will do make-up for the carnival party?