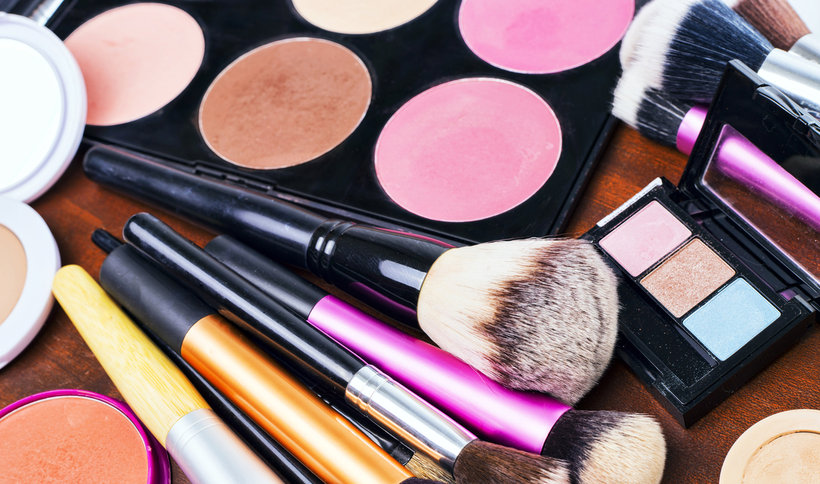 Yes, it's true you can apply a great, natural and beautiful makeup in just three minutes. It's a rescue for young mums, busy women and those who spend mornings in a traffic jam (a car mirror isn't worse than the bathroom one;)).
If you also live a hectic life and simply run out of time for the morning makeup, this post is dedicated for you. I'll give you a step-by-step description of makeup that doesn't take ten or five minutes but just three!
The makeup is tried and tested by me. You don't need to be a skilled makeup artist. You just need the right products and I'll try to give you some names of the ones worth recommending. I came up with the three-minute makeup when I went through a rough patch and had no time for the full makeup. On the other hand, I had to do sth about my looks. I had a non-stop contact with people. I didn't want to think that a person on the other side of the counter sees me… literally me… with open pores, under-eye dark circles, bushy brows and everything that we, women, know but others don't have to 🙂 😀
My makeup patent is really simple. I hope you'll like it, too. Let's get round to it!
Quick Makeup Step by Step
BB or CC Cream – an ideal solution as it combines the qualities of a cream, primer and foundation. It's important that the cream goes with your skin tone and needs. A good BB cream doesn't only camouflage blemishes and broken vessels but also gives a matte finish and makes the skin look stunning in every lighting. BB cream is an excellent product for the quick makeup. Thanks to the consistency, you don't need a brush for the application, just spread it evenly and tap in with fingers. If you have oily skin, use a mineral or loose foundation as an alternative. Kabuki brush works for applying the mineral foundation; it literally takes 30 seconds. Important! Apply the BB cream to eyelids, too; tap it gently so it blends with the skin tone. Great, isn't it? No need for eyeshadow (waste of time!).
Under-eye concealer. You'd better not give up on this product, unless your skin is free from dark circles and imperfections. You need a concealer you'll quickly tap in the skin. A liquid, yellow product will be the best one. Give up on stick or pencil concealers. Go for the ones that are easily applied and blend in quickly.
Define the eyebrows with a gel, using a slightly lighter shade than the color of your brows. A quick makeup doesn't leave time for precise shaping and filling-in so just intensify the color and gently comb the brows. Maybelline Eyebrow Pencil or an eyebrow mascara will do (Bourjois, Loreal). It's important that such a mascara has good pigmentation and the right consistency. It must dry on the brows quite quickly; I guess you don't want to smudge the mascara that hasn't set yet. Girls whose brows are thick and defined can simply use an eyebrow comb or a colorless gel – a fast brow makeup is complete!
Cream blusher. Preferably, it should have the form of a lipstick so you can blush both the cheekbones and the lips. Avon offers two brilliant pencil blushers. You can choose between two shades and both are ideal to me. The first one is light pink whereas the other one resembles violet and has a subtle sateen glow. IsaDora Twist-up Blush&Go is another genius in this category. You must pay a bit more but the colors, consistency and saturation are simply masterful. I use the Bermuda Bronze – perfect for cheeks and lips. If you can afford a pricier blusher, I recommend the immortal, timeless product that's loved by almost all movie stars – Benefit BeneTint. It isn't in form of a stick; the blusher is fluid and has an intensely red hue and beautiful aroma of rose petals. You apply it with a brush and gently rub on the skin. It's a wonder of the world, incredibly long-wear, delivering a stunning glow on cheeks and lips. BeneTint ensures a super-fast makeup 🙂
Mascara. No second-best in this case. My entire collection of makeup products may cost little but a mascara is my cosmetic queen. It must be ideal as it's often the only product I use in the eye makeup. That's why I keep away from mascaras with hairy wands that gather mascara clumps and leave the eyelids smudgy. A silicone spiral wand gives a perfect separation, coating and extension. It lets me achieve a flawless lash makeup in a few seconds.
That's it 🙂 A basic, fast makeup is done. If you've got extra thirty seconds, apply a highlighter to the cheekbones, inner eye corners and the nose bridge for a nice illuminating effect. The product makes the face look rested and fresh.
And? How long did it take you to apply this five-minute makeup which actually takes less than five mins? 🙂 If you have other quick makeup tips and tricks that let you put on makeup in less than five minutes – let me know, leaving a comment 🙂 Have you got a favorite mascara? Waiting for your feedback 🙂 Have a nice day!